It's less than a week into summer, but people are already talking about how this could be one of the hottest summers ever. That means that even though most of us would much rather be outside playing, we'll have to spend a bit more time inside. Here are a few games (and one non-game product) that will help you chill on those days when it's too hot to go outside.
Build a Bot (Basic Fun)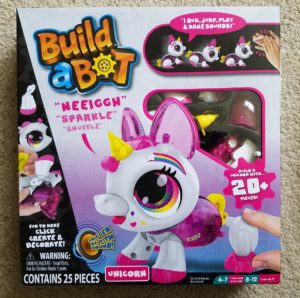 Another STEM-type toy for the younger set. Follow the easy instructions to create a basic unicorn by snapping and clicking together the pieces. Then you customize and personalize your one-horned wonder with stickers. Once you're done, just clap your hands (or make some other loud noise) to bring your unicorn to life, walking across the floor and making unicorn-y sounds. Batteries required but not included. Ages 5+ (although kids under 7 might need some adult help with assembly). Prices vary. http://www.basicfun.com



Flying Sushi Kitchen (Redwood Ventures)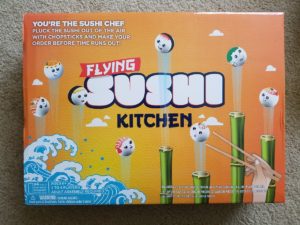 Calling all sushi chefs! Players take turns filling orders—all you have to do is pull an order card and put the right pieces of sushi on the plate before time runs out. Oh, wait, did we mention that those sushi pieces are floating in the air and that you have to use chopsticks to grab them? A really fun game that's a challenge for even the most adept chopstick user (and there are chopstick trainers for those who need a little help). First to fill $25 worth of orders wins. For 1-4 players, ages 6+. Prices vary. http://www.redwood-ventures.com/


Robo Alive pets (Zuru)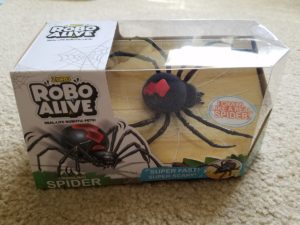 Zuru's Robo Alive pets have been entertaining kids—and making parents jump—for quite some time. And new Attacking T-Rex and Crawling Spider prove that the company has no intention of stopping anytime soon. The T-Rex is about 1,000 times smaller than the real thing, which makes it a little less scary. But incredibly realistic spider, with its creepy fuzzy body, is about 1,000 times bigger than the real thing, which makes it a lot more scary. Batteries required, but not included. For ages 5+. Prices vary. http://roboalive.zuru.com/


Tic Tac Tongue (Yulu)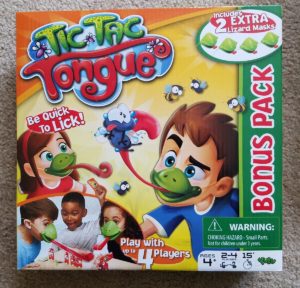 Put on a lizard mask and set up your flies. Then, use the party-blower tongue do what lizards do to flies. Well, sort of. Sounds gross, but it's really fun. And we guarantee that you'll never make it through this game without giggling hysterically. 2-4 players, ages 4+. http://www.yulutoys.com


NewAir EC111W Portable Evaporative Cooler (NewAir)
The more time you spend inside, the more you'll be tempted to run your air conditioner, but that can be really expensive. With the NewAir EC111W, you'll be able to stay cool, without the cost. Unlike standard A/C, this evaporative cooler (also called a swamp cooler) is all natural and completely eco-friendly, using evaporating water and the laws of physics instead of chemicals to do its job. It also uses 75% less energy—about as much electricity as a 100-watt bulb–and makes hardly any noise. This cooler covers only about 250 square feet, but since it's compact and portable, you won't have any trouble moving it from room to room. The 3-speed fan and remote control ensure that you'll have complete control over the temperature. Works best in hot, dry (non-humid) areas. $189.99, but you can get 20% off by using code MRDAD at checkout.
https://bit.ly/2lfAl7o