If you're anything like us, you like to be active and outside as much as possible. Cold weather complicates things, but not to worry. It's still possible to take in some natural vitamin D all year 'round, even if you're all bundled up. Here are some functional, eco-friendly cool-weather options that we're loving right now.
Original Stegmann Shoes (Stegmann)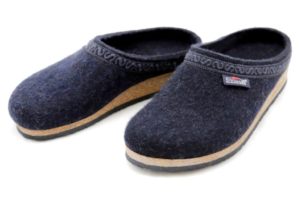 The perfect slip on shoe for indoors or out, the Original Stegmann is great for camping, running errands, and everything in between. Made from a proprietary wool blend, these shoes have fantastic arch and toe support, a contoured cork sole that helps provide additional metatarsal support, and a gentle slope that helps reduce ankle and back pain. So if you've got aching feet, issues like plantar fasciitis, or a bad back, these are well worth considering. All in all, if comfort is your thing—and whose isn't?—check 'em out. https://www.stegmannusa.com. Prices vary.

Rainmaker Jacket (Mountain Khakis)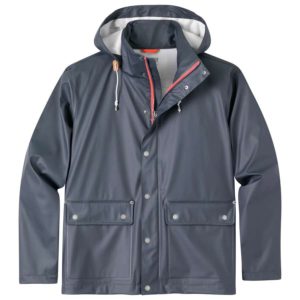 We've really fallen in love with Mountain Khakis, in no small part because their products are soft, durable, and made using environmentally friendly fabrics and practices. The medium-to-lightweight, hip-length Rainmaker jacket is all sorts of wet-proof (rain, snow, mud, and more), and stretchy, too. It's also plenty warm, without being swelteringly-sticky-hot like so many raincoats can be. The Rainmaker has a removable hood, welded seams, and snap-closed patch pockets. The jacket is made from polyurethane, which is both more durable and a greener alternative to traditional raincoats' PVC vinyl. Polyurethane apparently requires fewer chemicals in the manufacturing process, is less likely to leach into ground water, and is more biodegradable than PVC. Available in several colors. $139. https://www.mountainkhakis.com
Poker Flats Pullover (Mountain Khakis)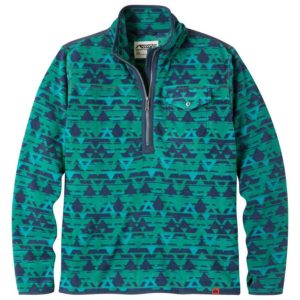 Soft, cuddly, and perfect for chilly nights, this will be your new go-to sweatshirt. Named for the inspiring Teton National Park, each sweatshirt is made from certified recycled fleece (which is manufactured using sustainable technology), and reuses about 25 plastic bottles. Half-zip, relaxed fit, with a high collar that can be folded down, it also has a snap chest pocket and thumb loops. It comes in two colors: one is several shades of blues and greens, the other is a deep red with shades of grey. $85. https://www.mountainkhakis.com
Old Faithful Pants (Mountain Khakis)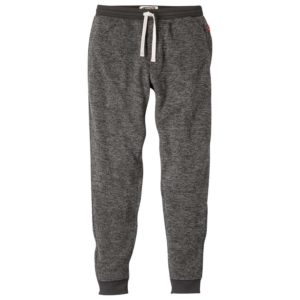 Old Faithful pants are exactly that—the most comfortable winter all-around pants we've found in ages—and you may just find yourself living in them. Remember when it was laundry day and you had to wrestle that favorite dress or t-shirt off a squirming toddler and swear up and down that you'd give it back as soon as it was clean? Get read to do the same with these pants, except that you'll be wrestling with adults instead of children. Also known also as the "campfire pant," Old Faithful is a sweatpants-regular pants combo, with a drawstring waistband, zippered fly, and multiple pockets. The ribbed waistband and ankle cuffs keep the pants where you want them. Interestingly, the legs are slim fit, which we thought was a little odd for a hot second, but got used to them in no time. Available in two colors, oatmeal and black (which seem more like light grey and dark grey to us). $90 at https://www.mountainkhakis.com