We're gearing up for Toy Fair, where we'll be spending four days up to our ears in toys and games. Over the next couple of weeks, we'll fill you in on what's new and exciting for 2017. But one thing we can guarantee right now: regardless of whatever else is trending, animals will never go out of style. Here are some of our current faves.
FlipaZoo and Little FlipZees (Jay@Play)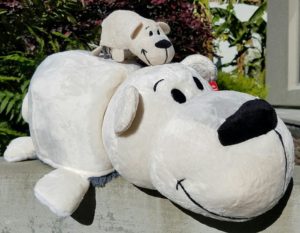 FlipaZoos are adorable plush pillows that are perfect for snuggle time and bed time. Each FlipaZoo is actually two animals in one. Just lift up the animal's tail, pull it over its head (sounds painful, but no animals will be harmed), and you've got a completely new pet (don't let your kids try this with your real pets). There's a cat that turns into a mouse, a dragon that turns into a unicorn, a husky that turns into a polar bear, and several others. Jay@Play also makes mini versions called Little FlipZees. Big or little, they're great for all ages. $19 for FlipaZoos; about $8.50 for FlipZees at your favorite retailer. http://www.flipazoo.com

Bright Bugz Evolution (Bright Bugz)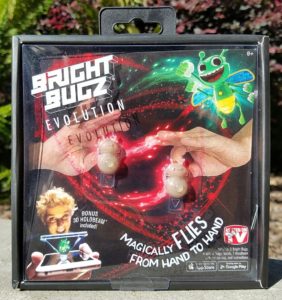 Like it or not, bugs are animals—and you'll like these ones. Bright Bugz are small lights that turn on when you squeeze them and off when you release the pressure. That allows you to create the illusion of throwing the bug from hand to hand, putting in one ear and taking it out the other, and more. The app ads even more illusions, like throwing your bright bug into your phone. Bright Bugz are best used in the dark and you'll need to spend some time practicing to get the timing down. But once you do, the effect will (as the company says) "glow your mind." For ages 8+. Under $20 at retailers everywhere. http://brightbugz.com
Lion Guard Leap N Roar Kion (Just Play)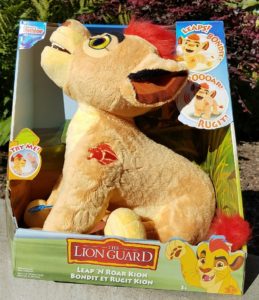 In the hit Disney Junior series, Kion protects the Pride Lands. And he can do the very same for you. This extremely soft plush is motion activated: Push down on his hind end and he'll leap. Wave your hand in front of his nose and he'll shake his head, roar, and unleash some of his familiar phrases, which your kids will repeat over and over and over as they run around the house roaring. Batteries are included. Fortunately, Kion comes with an off switch. Unfortunately, kids don't. For ages 3-6. Under $22 at amazon.com and other retailers.
Kitty Surprise: Siena and Her Kittens (Just Play)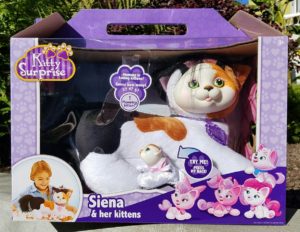 Siena is pregnant. How many kittens will she have—3, 4, 5?—and will they be boys or girls? Just like with a real cat, you have to wait to find out. Just so you know, one in four packages has four or five kittens, the rest have three. When Siena does finally give birth (which you'll help by taking the kittens out of her pouch), you'll find a litter of adorable, plush kittens with plastic heads, at least one of which meows. For ages 2+. Under $25 at major retailers.
Twinkle the Magical Unicorn (Vtech)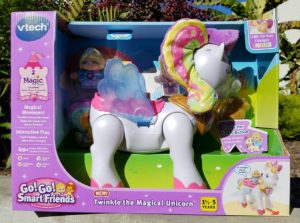 Twinkle is part of Vtech's Go! Go! Smart Friends world. She moves her head, walks, talks, and flaps her wings, and all she asks in return is a nibble of her golden magic carrot. If you're especially nice, her horn will light up and change colors. This playset comes with Prisma the magic fairy and the golden carrot, and interacts with other Smart Friends characters (which are sold separately). Limited-life batteries included. Ages 18 months to 5 years. Under $20 at amazon.com and elsewhere.