Looking to spend some time in The Big Apple with the family? Here are some great places to visit while you're there.
LEGOLAND Discovery Center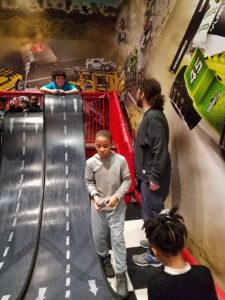 LEGOs are fun for kids (and adults) of all ages, and there's no better place to play with them than the LEGOLAND Discovery Center. The adventure begins with a kiddie version of the history of those little plastic bricks and how they're made. After that, it's time to get physical. The first ride (one that takes you into the main area) is a sit-down guided-laser shooting tour, where you save the castle by defeating tons of baddies. To celebrate your victory, you head into a mini-brick version of New York City and the LEGOLAND area. Push buttons for lights and sounds, and well as mini-animations. The details are pretty amazing, and the spoofs will keep everyone giggling. Fans will find quite a few "Easter eggs" as they walk around the town. There's also a magic couch ride where you jaunt around on a flying couch. Really.  You move it up and down by pedaling, and it goes around in a circle.
If you're feeling a little lower-energy, check out the racing course, where you build your own racecar to pit against everyone else. And don't miss the 4D movie, a must for all LEGO Movie fans. Of course, there are tons of masterclasses to take, LEGO to build (you can take your creations with you for a fee), and obstacle courses to try out. LEGOLAND Discovery Center Westchester is located at 39 Fitzgerald Street, Yonkers, NY 10710
Statue of Liberty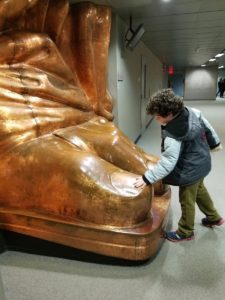 No visit to NYC would be complete without visiting Lady Liberty. The National Park Service provides ferry and related services to and from the Statue of Liberty National Monument and Ellis Island via Statue Cruises. You can get there both from either Battery Park in lower Manhattan or Liberty State Park in Jersey City, New Jersey. Cruises begin at 8:30 am, with the last boat departing Battery Park and Liberty State Park at 3:30 pm daily, and the last boat from the Statue and Ellis Island departs at 4:30. Tickets to the crown and pedestal can be booked at the same time, or you can visit just the grounds of the statue.  Whether you're an American or a foreign tourist, seeing the Statue and Ellis Island is both incredibly moving and educational. We highly recommend that you leave the entire day for your visit, as it's not something to rush through. You can purchase tickets to the Statue of Liberty and Ellis Island online at www.statuecruises.com, by visiting the Statue Cruises ticket office inside Castle Clinton at Battery Park, or by calling (877) LADY-TIX.
Madison Square Garden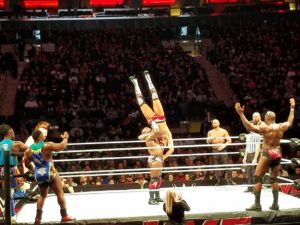 Ah, MSG, a true New York City institution, where you can see all sorts of shows and sporting events. No matter your age or preferences, there's definitely something for everyone. We recently saw WWE's Road to Wrestlemania. The show was fast paced and exciting and the crowd was incredible. Not a big wrestling fan? No problem. There's a huge variety of shows to choose from: rock shows like Pink or Billy Joel, comedy acts like Kevin Hart, little-kid favorites such as Sesame Street Live or Peppa Pig Live, and tons of sporting events like the New York Knicks, UFC, and Monster Jam. Visit http://garden-ny.com/madisonsquare/index.php to see the full lineup and purchase tickets.